Fantastic uplifting show this week with lots of good summer music, so I thought I'd add a bit more detail behind the music
Hernán Cattáneo : Resident (Delta FM 90.3) - Episode 005
Part 1:
01. Paneoh- Sanatrack (Gregers Remix) [Connect Four | C4DIGI006]
02. Mario & Vidis feat. Ernesto - Changed (Andre Lodemann Remix) [Future Classic | FCL55]
03. Heiko Laux & Teo Schulte - Suol Hug (Till von Sein Last Minute DoomDub) [SUOL Berlin | SUOL027]
04. System 7 - Positive Noise (Original Club Mix) [A-Wave Records | AAWT706]
05. DJ Freddy & Michael Avannier - Mechanic System [Courtoisie France | CR 011]
Part 2:
01. Tim Deluxe & Mat Playford - Back to the Rocket (Club Mix) [Skint Records |SKINT209D]
02. Freska - Slow Cold Slow (Spieltape Remix) [Darkroom Dubs | DRD049D]
03. Android Cartel - Wake Up Call (Dark Soul Project For The Floor Remix) [Subtract Music | subtract002]
04. Kasey Taylor - Similarity (Barry Jamieson Remix) [Vapour Recordings | VR100]
Release Notes :
01. Paneoh- Sanatrack (Gregers Remix) [Connect Four | C4DIGI006]
Connect Four is back in Spain, more precisely Valencia, where we found the up and coming artist; Paneoh.
First time we really put our ears on him was when he released the great track 'React' on Microfreak (a Valencia label run by Attemporal). We got in touch and he sent us some tracks of which we picked 'Lateral' and 'Sanatrack', they are backed up by a remix from Tigerskin (Berlin), who should be no stranger to anybody. 2nd remix comes from (Lars) Gregers, one half of Blagger (Perspective) and the other half of label management of Tic Tac Toe and Connect Four, this time with his first solo remix.
Sanatrack 

Last track is a full-on crazy vocal track, moving and grooving. If you want to push the last zombies on the floor over the edge, this one should come in handy.
02. Mario & Vidis feat. Ernesto - Changed (Andre Lodemann Remix) [Future Classic | FCL55]
Released by: Connect Four
Release/catalogue number: C4DIGI006
Future Classic have gone back to their deep house roots with 'Changed' by Mario & Vidis. They've also invited their friends Andre Lodemann, John Talabot, Soul Clap, jozif and Softwar to grab their pianos, drum machines and string ensembles for remixes.
Mario and Vidis are two gentlemen from Lithuania. Mario and Vidis' first tune was a remix for Atjazz and Robert Owens that was played and loved by Gilles Peterson, Pete Tong and Laurent Garnier, their first track with vocals "I'll Be Gone" didn't leave the MTV Baltic Top 20 for half a year! Since then they've worked with Jazzu, Kathy Diamond and released their debut album on their own label Silence Music. (Lithuania geographically parties next to Latvia, Belarus, Poland and the Baltic Sea.)
'Changed' is etherial – the whispy voice of Ernesto and cute skipping drums just make us happy. The video clip kind of wigs us out a little bit too (double meaning).
First remixer up is German producer Andre Lodemann, not many house producers would admit they came from trance and we're surprised we're even telling you. Lodemann's mix is a weapon, if you're listening to a little sample clip on the net you're not doing it justice, listen to the first 4:30! Phoar.
Permanent Vacation regular John Talabot pitch shifts the vocals and blisses everything out with celestial strings and ecstasy whilst burning hot producer and DJ team Soul Clap throw down a tough drum mix for the floor. Sydney lads and new Future Classic signee's Softwar work out a classic house jam and rounding out the package jozif of Wolf + Lamb fame gives a more live feel to the original.
TRACKLIST
A1. Changed feat. Ernesto (Original Mix) 
A2. Changed feat. Ernesto (Andre Lodemann Remix) 
B1. Changed feat. Ernesto (John Talabot's Private Mix) 
B2. Changed feat. Ernesto (Soul Clap Remix) 
B3. Changed feat. Ernesto (Softwar Remix)
Digital exclusive - Changed feat. Ernesto (jozif Remix)
Vinyl Release - 16 May 
Digital - 30 May
Release date: Jun 15, 2011
03. Heiko Laux & Teo Schulte - Suol Hug (Till von Sein Last Minute DoomDub) [SUOL Berlin | SUOL027]
German techno All-Star Heiko Laux is back on SUOL ... teaming up with Teo Schulte. A well known combo fromtheir Kanzleramt project Offshore Funk. What is there to say about Heiko Laux, besides asking the question.. would some of us be here without him!? Having been a major influence on the electronic music scene with his productions and label Kanzleramt for over 15 years, Heiko returns on Suol, showing once again how diverse he can be. It's slow ... it's really slow. It feels as though somebody finally gave those two permission to go under 110 bpm ... and it grooves like hell!
01 Suol Hug: A jacking groove with just a little example of the melodies that Teo has to offer. The whole Suol crew has been hammering this one in their warm up sets. Nobody can escape that groove.
02 Sound Hug: Another slow machine. A deep conga groove wheels you in and as the chord arrives you get the feeling that "this is gonna be special". It builds and builds till the chord progression takes you to the next level. This is how musicians work slow grooves at their best.
03 Sound Hug (Daniel Bortz Remix): Super talented Daniel Bortz who has made a big impact with his last EP on Suol, in our eyes just had to work on this release too! He bumps up the bpm... and adds some disco feel...!
04 Suol Hug (Till von Sein 'Last Minute Doom' Dub): Till took some time out from working on his album to build a beat tool for "Suol Hug". Nothing much happens, but that's what makes it sexy and perfect for the release. Last but not least ... we have "Spill". A melodic tool for the guitar-solo lovers. Slash hammered some killers on this hypnotic groove. Good to have you back guys!
04. System 7 - Positive Noise (Original Club Mix) [A-Wave Records | AAWT706]
Taken from their new LP System 'UP'
PositiveNoise - This opening track is one of our collaborations with A Guy Called Gerald. The intro section is taken directly from a live recording we made at Gerald's Berlin studio while writing this track. We're really happy with the combination of melodic chords and groove and Gerald's throbbing bass sound
Having re-tooled to write their new album "UP' in Berlin, System 7 release one of the set's bold highlights, "PositiveNoise". Co-produced with Berlin resident, A Guy Called Gerald, "PositiveNoise"s exhuberant sounds and crisp beats exude an infectious feel-good quality that's already starting to build ahead of its late June release.
Swarming in minimal style Carl Craig's epic Remix twists "PositiveNoise" in warping e-style with jangling hooks, bouncy breakdowns and dubby refrains breaking up the beats. This stripped down re-work takes System 7 back to their acid house beginnings with its snitchin techno hi hats, atmospheric keys and guitar, rumbling dark high-pitched sounds that keep the dancefloor moving for almost 12 minutes!
Positive Noise (Carl Craig remix)
Positive Noise (A. Mochi remix)
Positive Noise (Original Club Mix)
Beats & Beyond Review :
System 7 returns after a three year hiatus with the Positive Noise EP, backed up with remixes from Carl Craig and A. Mochi.
Positive Noise is the result of a collabo between System 7 and UK house honcho A Guy Called Gerald. The original mix opens with dark bass and moody fx, but soon moves to more uplifting Detroit-ish textures with a lot of diversity and elegenace. A perfect track for outdoor festivals. Carl Craig's remix is a stripped-down version with heavy bass work and rattling drums that lacks the magic from the original, while A. Mochi delivers a much heavier and colder rework in which especially the lengthy breakdown and climax stand out.
Our verdict:
A bit of an oddity, this one. The original mix is ace, Carl Craig's remix lets down, and A. Mochi's remix is okay, but not much more than that. Overall speaking, we expected more from this.
05. DJ Freddy & Michael Avannier - Mechanic System [Courtoisie France | CR 011]
Dj Freddy is one of the respected DJ/Producer of the French electronic scene. Freddy, as « Raff'n'Freddy », releases two hits « Listen » and « Deep progress » compiled by Sasha (Global Underground) & John Digweed (Bedrock) and saluted by Danny Tenaglia. Today he is owner of his own label Courtoisie Records.
With "Mechanic System", Dj Freddy & Michel Avannier are presenting a more techno type of track than usual, with a more deep remix of Jef K & Gwen Maze. Remember Jef who remixed Chez Damier / Chris Carrier the chart hit "The Gathering" released on his label Silver Network. This year, Jef & Gwen have signed remixes for labels like 2020 Visions & Rebirth, which will be out in 2011.
06. Tim Deluxe & Mat Playford - Back to the Rocket (Club Mix) [Skint Records |SKINT209D]
Presenting a 'Tim Deluxe and Mat Playford' collaboration. 'Back To The Rocket'
This colab shows off Tim & Mat's musicality in true form.'Back To The Rocket' is an epic tune to say the least; slow builds, subtle developments and an amazing piece of music where no words are needed, the music speaks for itself.
B-side 'Yard Dog' settles in behind adding another flavour to the release; bouncy, energetic and full of love!
Out now on Beatport so get on in and check out this massive tune!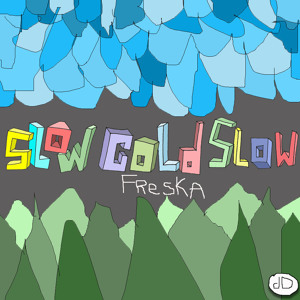 07. Freska - Slow Cold Slow (Spieltape Remix) [Darkroom Dubs | DRD049D]
artist: Freska
title: Slow Cold Slow
tracks:
1. Slow Cold Slow

2. Slow Cold Slow (Spieltape Remix)
3. Honey From Within

4. Add Venture
5. Minstrel From Venus (Of Norway Version)
label: Darkroom Dubs 
cat #: DRD049D
release date: May 23rd 2011
Beatport 4 week exclusive 

Every now again a release drops with us here at Exclusive that brings all daily productivity to a premature halt as we sit back, take stock and get swept away on a wave of originality. Freska's "Slow Cold Slow" is the latest musical gem to have had this effect and its now time for us to bring it to you....
Its quite easy to comprehend the musical variety of St. Petersburg's Freska, when we take a snapshot of his influences. From Sabbath to Kraftwerk via traditional Russian fare, Freska has absorbed and used sounds, styles and techniques in his own music. His own work has already seen release on the likes of Stil vor Talent, Lo Recordings, Karate Klub and Traum, a label that also invited him to remix "Certain Things Pt. 1" by the legendary Minilogue. A combination that makes complete musical sense.
Darkroom Dubs has long been home to Freska. His 2007 EP "North From South" found critical acclaim and was soon followed by the successful 2008 singles, "Tuskee" and "Merrpink." Having recently remixed Silicone Soul's "David Vincent's Blues" which is slated for release later this year, Freska returns the duo's imprint with what is perhaps his finest and most complete work to date.
Freska's three new original cuts show an unnerving maturity in their production. From the slo-mo indie feel of the opening title track to the sun-drenched golden house vibes of "Add Venture," via the beautifully grandiose string and vocal bathed "Honey From Within".
As if that were not enough, we are treated to a brace of blissful remixes. Fellow Russian Spieltape sweeps "Slow Cold Slow" away on a beautiful bed of Balearic beats. Delicate chimes and and echoing trumpet abound. Meanwhile, Of Norway who are fresh from remixing Silicone Soul's "Nosferatu" for Soma's 20th Anniversary celebrations take on another track, "Minstrel From Venus." Their wonderfully trippy and inviting Nordic style works to perfection... as you will see!
Selected Feedback...
*EQTV RECORD OF THE DAY* 
DJ Mag - "Seems like sunshine has entered this Darkroom Dub! The variety and musicality here make it a real gem. Hard to choose a favourite!!!" 
Ramon Tapia - "LOVE the whole pack!!!" 
Nick Curly - "Spieltape Remix is definitely the one for me here. Support!" 
Craig Richards - (Fabric London) "This is a great ep!! Add Venture my fav!" 
Ewan Pearson - "Slow Cold Slow is ACE!!! Will play!" 
Hot Chip - "Really enjoying this, "Slow Cold Slow" sounds fantastic on first listen... and this is a very strong release all around, thanks!" 
Alex Niggemann - "Cool originals... Really lovely music!!!" 
Deetron - "All about Minstrel From Venus!!! Love it!" 
Edu Imbernon - "Loving this EP! M U S I C! All mixes are amazing! The harmony on Minstrel From Venus is awesome!" 
Nick Warren - "Big big talent, all the originals are bang on the money and two corking remixes as well. Heavy support!!!" 
Jody Wisternoff - "Wow, loving this! Every track is great, especially loving Slow Cold Slow. Love the melodic bassline, I will be behind this absolutely!!" 
Lauhaus - "Honey From Within and Add Venture sound amazing!! Summertime!!!" 
Gorge - "Spieltape's mix gives a taste of super summer feelings, thanks!" 
Hernan Cattaneo - "The whole EP is excellent!!!!!" 
Datatransmission - "Spieltape remix! What a remix... breathtaking....wow! Just fantastic. This guy is an artist in the true sense of the word" 
Till von Sein - "Cool ep...Honey Within is pure bliss and Add Venture is ace as well... big up!" 
X-Press 2 - "Of Norway Version is wonderful!!!!!" 
Pablo D - (Klubbers.com) - "Great Stuff! and full support. One of the best eps of this year sure. Slow Cold Slow is incredible!"
Released by: darkroomdubs
Release/catalogue number: DRD049D
Release date: May 23, 2011
ISRC: GB-4PD-09-00054
Data Transmission Review
Rating: 9/10
What a delightful musical journey this is - each track compliments the other so well that you can actually listen to it like an album. The order of the release from the a-Side onwards is surely no fluke. Freska has created something truly magnificent, and better still, you can't really pigeon-hole it.
'Slow Cold Slow' bubbles along at around 110 bpm, which is exactly the right kind of tempo to give that intense electronic throb. It evolves beautifully, but never loses the warm synth undercurrent, which has a distinctly French feel to it. And then there's the brass - watch out for that late in the track - it's just so triumphant!
Spieltape's remix chooses to filter the brass in to the build up, which is a lot longer than the original; but give it time - there's a particularly deep and meaningful breakdown, which cues a lovely and warm trundle to the finish. The odd spoken interruption makes things more profound; but as deep as this is, it's actually quite easy listening. Very very nice.
'Honey Within' feels a bit more edgy at first, but eventually the warmth comes, with a couple of different vocal clips creeping in and out to lift proceedings. Similar in structure to Slow Cold Slow, but that structure really works. A gradual, leisurely evolution and a break three quarters of the way through get the head nodding nicely by the end.
'Add Venture' gets us up past the 120bpm mark, and is the most striking of all the tracks in my view. A nice galloping beat and a delirious harmony create absolute carnage, but as strange as it sounds, it does so in quite a covert fashion. As per all the tracks, riffs and instruments come and go; but the momentum rolls on and on, and of course there's that warmth and general feeling of wellbeing.
Finally, and such a shame that there is a finally, Minstrel from Venus sweeps in at 10 minutes 19. But it doesn't feel like it. Guess what; it evolves, it spreads its wings, it's beautiful, it's organic. For the record, I'd be tempted to use this as a progressive house warm up, but I don't think Freska really cares - this is his art, use it how you want.
You really must listen to this. It's a pleasure to hear something with such musical freedom but still within the boundaries of beat-driven electronic music. Why don't more people make stuff like this?
08. Android Cartel - Wake Up Call (Dark Soul Project For The Floor Remix) [Subtract Music | subtract002]
Based in Los Angeles, California, subtract music is all about music in it's purest form. About the emotions and feelings, as you hear the rising pads and crispy synths with that unmistakable euphoric feeling. When you totally and completely lose yourself in the moment, and immerse deeply in the ocean of bliss that only music can provide.
Android Cartel - Wake Up Call is our next release. Original, dub and select remixes.
Half human | Half robot.... from the futuristic imaginations of human civilization comes the electronic music outfit and black-market robot peddling crew Android Cartel, sent from the future to present time for their soulful interpretation of a mechanical future.
Based out of Los Angeles, androids Reagan Denius and Christopher Mohn are integral artists in crafting the sound of West Coast underground techno, tech-house, and house, and have exploded into the scene with a ravenous force that only and android army could invoke.
01. Android Cartel - Wake Up Call (Original Mix)

02. Android Cartel - Wake Up Call (Dub)
03. Android Cartel - Wake Up Call (Dark Soul Project For The Floor Remix)
04. Android Cartel - Wake Up Call (James Gloom 3am Mix)

05. Android Cartel - Wake Up Call (Hernán Cattáneo And Soundexile Remix)

06. Android Cartel - Wake Up Call (Liz Cirelli And Minski Sad Strings Remix)
You can preview the Hernán Cattáneo And Soundexile Remix here:
http://soundcloud.com/subtractmusic/android-cartel-wake-up-call-hcse/
Released by: subtractmusic
Release/catalogue number: subtract002
09. Kasey Taylor - Similarity (Barry Jamieson Remix) [Vapour Recordings | VR100]
Vapour - Established 1997, eVapour8 - Established 2007 Forward thinking dance music from Australia/Portugal and the rest of the world.
Time to make an announcement for all Vapour fans. As we are approaching our 100th, we have decided to choose artists past, present and future to remix our back catalogue. Remixers on board are Guy J, Luis Junior, Hernan Cattaneo, Jamie Stevens, Dousk, Nick Warren, Luke Chable, Peter Horrevorts, Fiord, Monaque, Ricky Ryan & Ucleden, Solead and many more.... Stay tuned...
Vapour Recordings have some exciting releases coming up in 2011 with some very big names along with Vapour Recordings 100th release special which will feature some of the best artists, past present and future.
OFFICIAL TRACK LIST (Release locked in for July)
Remixes by:
Luis Junior - (Monaque - You Cant Stop Me) 
Guy J - (Infusion – Love & Imitation) 
Barry Jamieson - (Kasey Taylor - Similarity) 
Hernan Cattaneo & Martin Garcia - (Luke Chable – Shepherd) 
Jamie Stevens & Steve Ward – (Dousk - Hammer) 
Nick Warren – (Dousk – Blender) 
Roger Martinez - (Dousk – Estrange) 
Rodskeez – (Dousk – Dirty Teeth) 
Dousk - (Claus Von Klunk - Fandango) 
Luke Chable - (Roger Martinez - Discovery) 
Peter Gun (Kassey Voorn - A Hard Place) 
Karlos Elizondo & Ramiro Puente - (Kasey Taylor - Vamusa) 
Rodskeez – (Dousk – Dirty Teeth) 
Fiord – (Kasey Taylor – Simplicity) 
Kassey Voorn – (Nick Muir – Airtight) 
Chris Fortier (Neil Quigley – Illusion) 
Kasey Taylor (Dousk - Snowcone, Nails & Estrange) 
John-e - (Made to Move - Panoramic) 
Solead (Dousk – Port 60) 
Chloe Harris (Ocean Wave - Clearwater) 
Ricky Ryan & Ucleden – (Dousk – Keep Your Nose) 
Manuel Sofia & Mario Khan (Triangle – One) 
Arjun Vagale (Jalebee Cartel) – (Bluephaze - What is Music?) 
Murat Uncuoglu – (Avilo – Easy 15) 
C-Jay (Dousk - Buncombe) 
Logiztik Sounds (Dousk - Donut Drama) 
Chris Mozio & Nikko.Z - (MOS - Difficult Emotions) 
Tash (Dousk – Blender)