Hernán Cattáneo : Resident (Delta FM 90.3) - Episode 026
Part 1:
01. Days Off - Geminius (Michael King Remix) [Stripped Recordings | 080-SR]
02. Mark Reeve - Curl (Moving Horizons EP ) [Traum Schallplatten |Traum V143]
03. The Selph - Evening Falls (The Eye Of Silence EP) [AMAM Records | AMAM-0166]
04. Elon - Carlos (Exercise 1 Remix) (Colombian EP) [Dumb Unit | DUMB UNIT 63]
05. The Apologist & The Unsettled - Zabriskie Point [Devoted Records | DEVR 008]
Part 2:
01. Marcelo Vasami - Every Night (Scotty.A's Dark Dub) [Lowbit Records | Promo]
02. Fiord - Shadows Of You (Triangle Remix) [Mirabilis Records | MIRA026]
03. Ioan Gamboa - Isis (Little Princess EP) [Somebody's Story | SS008]
04. Deadpan - Revolution (Seb Dhajje Remix) [Voco Records | VOCO011]
Release Notes:
01. Days Off - Geminius (Michael King Remix) [Stripped Recordings | 080-SR]
Artist // Days Off
Title // Geminius
Label // Stripped Recordings
French producer/dj winner of the Royksopp "Tricky Tricky" remix competition in France in 2010  and regular contributor here at strippedmuzikclub makes a much anticipated return centre stage as he unveils his second full release for us on Stripped Recordings.The Parisian returns to follow up his 2010 hit "They Came From The Sun EP" which recieved massive support from the likes of Sasha,Hernan Cattaneo,Nick Warren et al.The new release is entitled "Geminius" and features as well as the acclaimed Original plus remixes from Kid Bucle,Michael King and Moojaa.
This release comes fresh after his recent remix competition runners up spot in the Sasha / Burns Studio "Cut Me Down" Remix competition which landed him a trip to Ibiza this summer to meet with the man himself.The Days Off remix was released on Sasha's new record label Last Night On Earth. for Silinder,Zhemaitis & Darren Flecta on Stripped Recordings and Lithuania's The Sneekers on Stripped Digital.
DAYS OFF | GEMINIUS
01.Original Mix // 02.Kid Bucle Remix
03.Michael King Remix // 04.Moojaa's Dream Sequence Remix
080-SR | STRIPPED RECORDINGS
Available Exclusively from Beatport: http://www.beatport.com/release/geminius/816148                                      
**********
Support:
HERNAN CATTANEO,NICK WARREN,SANDER KLEINENBERG,DOSEM,OMID 16b,SOUNDEXILE,KAZELL,MARTIN GARCIA,KEN FAN,DENIS A,DIBBY DOUGHERTY,GUY MANTZUR,DARIN EPSILON,COLIN DALE,NICOLAS VAN ORTON,GAVYN MYTCHELL,KASSEY VOORN,ABYSS,TINI TUN,SASHA LE MONNIER,BEN CODA,JUAN DEMINICIS,DAVID GRANHA,SONIC UNION,HALL NORTH,DEEPFUNK,NOMAD IN THE DARK,ED LEE,BENJI CANDELARIO,ANDY ARIAS and more
**********
02. Mark Reeve - Curl (Moving Horizons EP ) [Traum Schallplatten |Traum V143]
Traum welcomes British artist Mark Reeve. Based in Germany since the age of 17 and a true "Omen club child" as he puts it in his own words, Mark has always been a huge believer of emotional techno with as little stunts as possible. 

Mark had his break through this year with his release on Cocoon "Daybreak on Mars" which was a a personal favourite of Sven Väth and returns here with the equally enthralling peak time mover "Moving Horizons". 

"Moving Horizons" is by all means a real powerhorse. It is a perfect extension of Detroit concepts mixed with today's aspects of modernism. The track is a chord driven "haunting" anthem, with a strong build up, a track that never lets you down.

His recognizable colourful and bassy down pitched vocals, read aloud against a backdrop of beautifully lush, warm and sensuous chords that add a fine Balearic note to the track. Once these chords get going you know this track as a great pleaser, a track that demands a collective spirit and something rare. 

Pig & Dan, Hermanez as well as Arnaud Le Texier for whom the track was appealing from the start, have remixed the track in a fashion that suits the original very much. 

Pig & Dan have accentuated the Detroit feel taking the track even more towards a "big fun" sounding Saunderson production that will put a big smile on peoples faces, whereas Hermanez works in a more fashionable percussion way keeping the beat very lively and driving. 

"Cold Places" follows the footsteps of "Moving Horizons" but installs more of a sensitiveness alongside it's beautiful organ sounding chords. "Closed Doors" is an even deeper track that could go on heavy rotation with late night German TV show "H3 Spacenight", somehow classic with a strong evergreen touch. 

To round up the four original tracks by Mark Reeve we should mention his last original track "Curl". This track works more in a dub like spirit, unfurls occasionally into a see of sounds..all very gentle and cool.

The releases finishes with a electronic interpretation of French producer Arnaud Le Texier who transforms "Moving Horizons" into a post Detroit abstract bleep consortium, all stylish and upright in its movements. 
We can imagine Jeff Mills playing this.    

Release date: 3rd October 2011
03. The Selph - Evening Falls (The Eye Of Silence EP) [AMAM Records | AMAM-0166]
ARTIST // The Selph
TITLE // The Eye of Silence EP
LABEL // AMAM Records (Alessio Mereu Audio Music, Cagliari, Italy)
CATALOG NO. // AMAM-016
FORMAT // 12" / digital download
DISTRIBUTION // Intergroove
RELEASE DATE // 24 October 2011
CONTACT //
info@am-am.org
A1. "Evening Falls"
A2. "Reply to Red"
B1. "The Eye of Silence"
B2. "Reply to Red" (Sierra Sam & Namito Remix)
Has it really been two years since the last solo 12" from Marco Giorano, better known under his production guise The Selph?! In the last couple of years this Berlin-based Italian has released a couple of collaboration EPs with the likes of Avatism and Matteo Milleri, a handful of remixes, plus appearances on compilations from labels Minus, Time Has Changed and AMAM. But he's been saving his best own work til now for a full statement in the form of The Eye of Silence EP.
"Evening Falls" finds perfect balance between the precision of techno and the groove of house, feeling both synthetic and inviting. "Reply to Red" is also built n a tech-house template, tinged with jacking breakbeats that are contrasted by mellow piano notes and a breathy singer seducing listeners onto the dancefloor.
On the flip, the EP's title track finally appears, and it's a beauty: turning down the BPMs a couple notches, the dew-covered synths, thumping beats and melodic accents of acid offer a slow-burning introspective moment in the club, definitely the most "human" sounding of the three originals tracks here.
Finally, closing things out are fellow Berliners Namito (Kling Klong) and Sierra Sam (Toys for Boys, Dirt Crew) who reconstruct "Reply to Red" with a throbbing new beat and melody surrounding the vocals, adding thick G-Thang synth work and percussive precision, managing to compete with The Selph's original.
Played and supported by Dubfire, Matt John, Sis, Shaun Reeves, Joseph Capriati, Stephan Bodzin, Hernan Cattaneo, Mikael Stavöstrand, Alexi Delano, Nico Lahs, Shinedoe, Gel Abril, Martin Eyerer and many more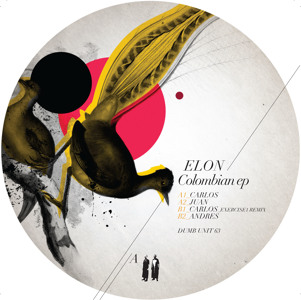 04. Elon - Carlos (Exercise 1 Remix) (Colombian EP) [Dumb Unit | DUMB UNIT 63]
And once gain we are back. After a welcome pause Dumb Unit returns with an energetic four tracker from our man in NYC : ELon. A long time label mate Elon strips it all back to create a bumping and infectious groove that while resolutely Dumb Unit is uncharacteristic in its nakedness ! No decor here, only pure syncopated and pushing rhythms to notch it up a tad. Perfect for leading the lions back to the warehouse and off the beach into the cooler months. "Put those shades away son we going inside". The energetic pacers of Elon are complemented by a deeper excursion; a superb Exercise One Remix that takes the original and works it into a pulsing main floor late night jam.
05. The Apologist & The Unsettled - Zabriskie Point [Devoted Records | DEVR 008]
Devoted Records is a new label emerging from Liverpool, Britain (UK)
http://soundcloud.com/devotedrecords/tracks
Devoted Records was established in 2007 by DJs Barry Wenham and Mike Rez,with the intention of finding and releasing new and exciting music by poducers they admire, and also to act as a focal point for their own productions.
Sam Perez and Brusca,aka The Apologist and The Unsettled,deliver their debut release for Devoted with a percussive,relentless,heavy French kiss-ish groove.The track builds,cleverly laying fills,vocals and flute samples into the mix. Liverpool's inbetweendjs deliver an outstanding remix to round off the package
06. Marcelo Vasami - Every Night (Scotty.A's Dark Dub) [Lowbit Records | Promo]
Limited Release Info at present.
Lowbit Records was formed in early 2008 by Swedish duo Bastards of Funk and Sonic Union.
Marcelo Vasami Bio:
His interest in electronic music dates back to his adolescence, mainly by listening to house music. Born in 1984, DJing came as second nature to him and soon enough so was producing. First, by playing in private parties for friends. Then, more and more often in bars and clubs all over Argentina. 

So far, he has shared booth with international talented DJs such as Pole Folder, Naveen G, Neil Quigley, Osamu M, Martin Garcia, Soundexile, D-Nox, and many others.

Marcelo has become a DJ with international reach, by already playing in "Bombay" and "Rioma" in Mexico, "El Pacha" in Tunisia, "Dance Club Mania" "Spacer Club" Club Plazma" "Chervilo Club" in Bulgaria, "Dreams Beach" "Fenix Party" "Save Club" Brazil, "Key Club" "Living Dance" in Uruguay, "Warmland" Paraguay, just to name a few. 

At the production level, the support from Argentinean djs such as Martin Garcia, Guille Quero, Deepmariano and the finest Hernán Cattáneo, is continuos. So also Internationals DJs such as John Digweed, Nick Warren, Anthony Pappa, Eelke Kleijn, Cid Inc, Monaque, Robert Babbicz.

If you check out his name on digital music stores, you will find dozens of releases on high quality labels: Replug Records, Afterglow Records, Stripped Recordings, Polytechnics Recordings, Frisky Records, Toes In The Sand Recordings, Off Side Recordings, Acute Recordings, just to name a few.

Vasami's productions speak for its own. Groove, dark progressive beats and gloomy sounds are a constant feature in his sets. You can check his radio show "INCEPTION" every 3rd Friday of every month on Frisky Radio.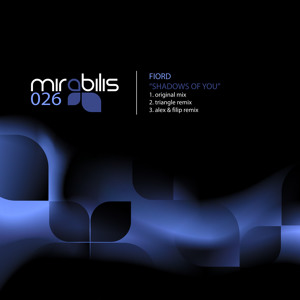 07. Fiord - Shadows Of You (Triangle Remix) [Mirabilis Records | MIRA026]
MIRABILIS 026: FIORD 'SHADOWS OF YOU'
TRACKLIST: 
1. Original mix 
2. Triangle remix 
3. Alex & Filip remix
PRESS: 

New Zeland's finest outfit Fiord aka brothers Hayden and Barton Storm are on board with their new single 'Shadow of you'!
The original is a mixture of shuffled dirty grooves, a deeper bass line and sinister synth lines filled to perfection with suave female vocal samples. Despite it's darker vibe, there is still lots of funk to this peak time groover!
The guys also deliver a more hypnotic and triply remix under their Triangle moniker. A bit more proggy then the original, this one is a typical Triangle track: 

Based around a hypnotic synth riff backed by a pulsating bass line and a strong but dirty groove. Test this one out at your late night sets and madness is guaranteed!
Label heads Alex & Filip return to the home label after over a year with this remix.
Taking things a bit out of the shadows here, their remix is a peak time techno groover. Based around a potent bass line and a strong groove with rolling percussion and lots of spacey effects and a cleaver use of the vocal samples this one should rock your floor!
FEEDBACKS:
Nick Warren: 3 dope mixes!!
Secret Cinema: Big fan of Fiord, been playing the music in every set... Shadows of You is cool! Greets!
Tom Novy": Triangle rmx for me!
Hernan Cattaneo: Very good!
Orde Meikle (Slam): nice EP - will try out thanx
Eelke Kleijn: Freaky stuff ! triangle mix is good as well
Barry Jamieson: All great mixes. WIll try them all out.
Miss Nine: loving the Triangle mix
Arjun Vagale": original is amazing, love it !! A&F remix is dope too
Kazell: All nice tracks, my pic is alex and filip remix!
Rodskeez: Digging both remixes but that original is just badass!! Will give all 3 of these a spin. Cheers!
Aldrin: A&F remix works best for me
Anderson Noise: Good stuff
Dibby Dougherty: Original here for me, cracker!
Kassey Voorn: Remixes for me.
Keith McDonnell: A & F remix rocks a fatttt one
Pete Stanley (Tempered Djs ): love all of them, especially a & f mix and the original.
Sonic Union: Love this release! What a stomper!! Cant really pick a fav as they are all so damn good!!! 
Markus Schulz: will try thanks
Ben Coda: Orig and Alex and Filip remix - awesome stuff!
Pena: love all mixes, specially orig and AF rmx. full supporting!
Sasha Le Monnier: Another great track from Fiord, who never disappoint, lovely vocal stabs & Acid, EXCELLENT PRODUCTION!! The Whole pack is great...thank you!
Darin Epsilon: Good remixes in this package
Thomas Penton: A&F deliver another smooth mix. Thanks!
Hayden Storm (Fiord / Antix): Great Package, Great label! Very happy to be involved. love the Alex & Filip remix!
Daniel Mehes: great release, the original mix is interesting, tho' my favourite is the Alex & Filip remix, thanks!
Brendon Colloins (Summer): Alex and Filip remix sounds amazing, thanks
Alex Versevis (Press&Play): Alex & Filip Remix !!!! support for Mirabilis & SUPPORT for A & F!
Logiztik Sounds: Fiord good as always!, Alex & Filip also very nice , full support guys!
Stefan Bauer (ProgressiveWorld.at): triangle mix is epic! lovely release overall!
Pete McCharty (Cocoon): Nice
Manchini: Original is great!
Lucas Ledford":"Great release all around! Love the energy!
Hans Tavera: Alex & Filip Remix is my favorite here! Well done guys!
Gavyn Mytchel: cool mixes!!!
Tim Richards: been a fan of this for a long time, great to see it get a release!
Paul Alexander: orig mix for me, love Fiord stuff
Echo Vacio: really solid package, original just pips it for me, will try out thanks
Brian Cheetham (Global Dance Session): Triangle Mix is something else !!
Jim Shaft Ryan: support
Arjun Avinash aka Audioprone (Stripped, Proton): Great package!Thanks !
Plasticlounge (Fds radio): Beautiful....
Soulwerk: Amazing pack!!! Lovin Triangle and A & F remix!
Tony Bove (T-Lectual): Massive EP guys! Loving the Orig & ya'lls remix!
Paraveen Achary Praveen Achary (SoundForge): Another fucking brilliant one from Mirabilis. Love all the mixes. Gotta give it to the original as it's just a beast!
Calin Marian (Tunnel FM): Alex & Filip did a great rework at this track, really cool this EP. Support from Tunnel FM
Matt Black: Triangle remix is great.
Nik Feral: This is an awesome package! can't choose my fave
Martin Skubala (Traveler @ Frisky): Mirabilis delivers again, Triangle mix for me for those proggy geeks and A&F remix gives that punch for late night mixes!
Mateja Klaric (Val202): all three tracks are simply amazing!
Paul Van Dyk: Thanks downloading for PvD
D-Phrag: The original is far too experimental for me. I prefer the remixes, especially Alex & Filip's one
Sergio Matina (M2O): Great job!!!
Released by: Mirabilisrecords
Release/catalogue number: MIRA026
Release date: Nov 7, 2011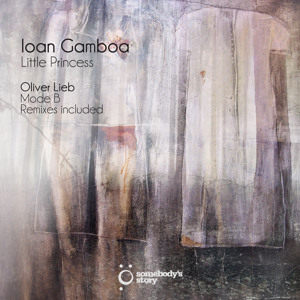 08. Ioan Gamboa - Isis (Little Princess EP) [Somebody's Story | SS008]
Ioan Gamboa is the chosen name by Kill minimal to identify his current music style, a sound way more closer to his melodic roots that matches a new stage in his artistic search.Nowadays Ioan Gamboa has settled his Studio in Berlin where he is absorbing, at first hand, the flowing energy of this rockin city. 'Little Princess' is the magic release, sound is so glassy that it seems that it will crumble in hand in a moment.

'Isis' and Butterfly Effect' steep into their mystic at the moon level atmosphere right now. Midnight drive by means of emotional pads, overflow like a streams, melodies harmonically change their forms covering with profuse rise structures. Playful voc's insertions and percussion create movement speed perpendicularly airward directly to young and bright autumn stars. Directly to "Little princess" constellation and everything shine there, filling all space with melodious sound. If the "Little Princess" constellation exists, I'm sure it will sound exactly like this! Ioan stunningly manage arrangement and import real emotions into his already branded sound. 

Oliver Lieb is a new artist of our label, it doesn't need any introduction. He has more than 250 releases since 1989 year on his pickback. He is absolute professional from Germany, who recently proved his top level in sound with remarkable record 'Epsilon Eridani' on Bedrock. 

The Mode B project from Ukraine is a part of independent German Label "Back Home" and it's imprint Klangwelt under the ownership of Ryan Davis. Mode B masters of his techno. Remix is dull and ductile, by means of branded sound of this project and emotional background. Tech dance floor paints in Oliver Lieb remix and Mode's B melodic techno structure remarkably fill up this story.
John Digweed (Bedrock, Global Underground): Thanks for these Igor. You have my full support on this release- really good
Hernan Cattaneo: Hola Igor, Very good stuff, support on these - Isis, Little Princess. Thanks! 

Barry Jamieson (Circular Sound Recordings): Isis and little princess orig for me. Thanks Cool EP

Nick Muir (Bedrock): Great stuff - fab production 

Chris Fortier (Fade): Originals tops for me 
Guy J: Great release , thnx best of luck

Nick Warren (Way Out West, Hope): great work, Isis and Butterfly for me

Jay Epoch (Director of Proton Radio): Little Princess is outstanding -- will be playing this on Particles! A benchmark release for the label. 

Cid Inc (Replug Records): Amazing package, all over this! 

Dibby Dougherty: Very good stuff here, will be supporting x 

Kosmas Epsilon (Epsilon Trax): wonderful pack, something for every time.

Kassey Voorn (Bedrock, Cocoon, Sudbeat): grabbing them all, great stuff! thanks Igor 

Nick Stoynoff (Armada, Black Hole, Baroque, Proto): wow, top stuff here..full support across the board! 

Nick Hogendoorn: Isis (Mode B Remix) is the one for me, love that raw edge! 

Nomad In The Dark (Hope, Stripped Recordings, Audiotherapy ): Love the whole release. Good to see Oliver Lieb Back in action.

Guy Mantzur (Flow): great pack ,so unique and spacy , will play , thanks 

David Granha (Sudbeat, Natura Sonoris, Parquet): Originals for me!!!!

mitch alexander (microCastle): amazing package guys! congrats! very cool mix from Oliver Lieb, really like it a lot. 
Scotty.A (DAR, Somebodys Story. Tulipa, tetsuko): Fantastic EP, love them all, full support from me. Thanks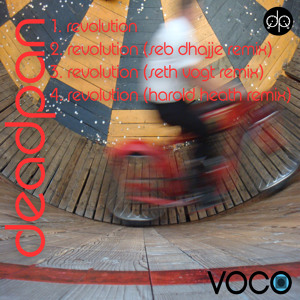 09. Deadpan - Revolution (Seb Dhajje Remix) [Voco Records | VOCO011]
Huge support from Nick Warren for Seb Dhajje's sublime remix, deep house demi-god Harold Heath takes it way underground and Seth Vogt turns in an anthemic breaks mix. The original is a dirty, tribal houser with a revey top line. What a package for the VOCO label!