Hernán Cattáneo : Resident (Delta FM 90.3) - Episode 030
Part 1:
01. Dominik Eulberg – Der Tanz Der Gluehwuermchen (Kollektiv Turmstrasse "Dirt Glow" Remix) (Diorama Remixes Part 2) [Traum Schallplatten | TRAUM V145]

02. Burial – Fostercare (Marcelo Vasami Unofficial Remix) [Hyperdub Records | unreleased]

03. Mario Puccio – Rosario (Night Part) [unsigned]

04. Hawaii – Pure (Andrez Remix) [Twisted Frequency Recordings | Promo]

Part 2:

01. Dominik Eulberg – Taeuschnungs-Blume (Ryan Davis "Narciss" Render) (Diorama Remixes Part 1) [Traum Schallplatten | TRAUM V144]

02. Audio Junkies – Deeper feat. Mei Finegold (Lonya Remix) [Florentine Records | FLR003]

03. Fefo – Semillas [unsigned]

04. Marek Hemmann – Infinity [Freude am Tanzen | FAT 053]
Release Notes:
01. Dominik Eulberg – Der Tanz Der Gluehwuermchen (Kollektiv Turmstrasse "Dirt Glow" Remix) [Traum Schallplatten | TRAUM V145]
Diorama Remixes Part 2
Dominik Eulberg // Traum Schallplatten
Format // 12"
The second part of the "Diorama" remixes offers again some of the finest producers around. Starting with Kollektiv Turmstrasse! What kicks off as a Chez Damier groove makes the transition into a loose dub monster. Collecting traces of the original sound and dispersing them with magic movements we see why Kollektiv Turmstrasse are a top act. Shifting the attention from the front to the far back from the obvious to the abstract... Turmstrasse create that parallel groove on top of the groove which seems to tighten up with every minute. Fine particles of sounds are sprayed onto the relentless groove and make it a real crowd pleaser.
An amazing remix comes from Hot Chip who have remixed "H2O". Bubbling synth sounds meet the melodies of the original, resulting in a laid back tune that makes contact to the melodic Detroit Techno such as exercised through Red Planet and UR productions by Mad Mike. The airy and breezy parts are due to the fantastic vocals of Joe Goddard and the elevating and heart braking synth sounds by Felix Martin that seem to come from the middle of the earth to surface at times in an enveloped euphoric movement. There are three versions here, make sure you listen to the extended version as well since this shows even better the spiritual side of it, it is a digital bonus since it was too long for the vinyl. There is also an instrumental long mix for all of you who would like to hear the pure synths.
Extrawelt have remixed "Die 3 Millionen Musketiere" and have improvised on the original melodic theme, extending it... taking it successful into another "played" direction, leaving behind marks of gloom... all silvery and white as momentums. Reciting old school Chicago house here, using disco claps and early UK rave elements, it is kept in the style Extrawelt are known for with their recent releases.
We believe him when Gabriel Ananda says he will turn the original more into a club track. There is no reason why he will not make this happen... since he is a man of virtue and a true believer and a close friend of Dominik Eulberg having released together with him on Traum three times already. Gabriel twists sequences like mad, uses feedbacks and a bit of muscle... all of this accumulating in the "suffocation break down", a "real highlight" as Dominik has put it. Rone's remix of "Der Tanz der Gluehwuermchen" came in last minute. Rone has been coming strong with his music and has been supported by Dominik Eulberg for some time now. The remix recites the original but launches into an improvisation adding other chords mixing the theme up strong.
On the "Diorama remixes pt 2" we also offer a third version of "Teddy Tausendtod" by Stephan Bodzin in the Êbreak beat "Zebra" version.
Coming on // December 5, 2011
Format // 12"
Catalog Nr // TRAUM V145
EAN // 880319549113
02. Burial – Fostercare (Marcelo Vasami Unofficial Remix) [Hyperdub Records | unreleased]
Burial is the stage name of William Bevan, an electronic musician from London. His music contains elements of dubstep, 2-step garage, ambient and house music. His eponymous debut album was released in 2006 to critical acclaim. The Wire magazine named it their album of the year, along with achieving fifth place in the Mixmag 2006 Album of the Year list, and eighteenth in the best of the year list of The Observer Music Monthly supplement. Burial's second album, Untrue, was also released to critical acclaim and was the second-highest rated album of 2007, according to the review-collating website, Metacritic.
Fostercare was originally released on CD1 of 5: Five Years Of Hyperdub which consisted of unreleased material from the Hyperdub Records back catalogue.
This unofficial remix is currently available as a free download, grab it while you can
http://soundcloud.com/marcelovasami/bur ... re-marcelo
03. Mario Puccio – Rosario (Night Part) [unsigned]
Mario Puccio is from Rosario, Argentina. With influences from psychedelic rock to classical music and tango. It started from a very young and have much interest in music. His studies, upright piano, grand piano, electric piano, keyboards, percussion and harmony. Passing the years he discovered his passion for different genres, Classical Music, Tango, Rock and finally Electronic Music. Already with 16 years participated in the third contest at the National Organ pedal keyboard twice, presenting "Libertango" by Astor Piazzolla, two years later was recognized by Carmelo Saitta and Daniel Piazzolla as one of the best organists "Academic" at Nacional. He participated in several clinics and seminars Midis Drivers and Synthesizers orchestral, choral, music history, as well as clinical percussion by Daniel "Pipi" Piazzolla.
As a lecturer he holds various seminars and conferences in Buenos Aires and Rosario, they were, "Music Therapy", "Acoustic Trauma," "History of Music", "Composing Music for films / movies," among others. Current Teacher Electronic Music Production, DJ and Cetear auditory training, international school of Sound.
Since 1996 he started producing electronic music through different styles, these are Progressive House, Deep House, Tribal, Ambient, Chill Out, Minimal. Three albums "Genco", "Mystic Flight", "Blue Zone Disc". Recognized for his outstanding and sets in different radios from Germany, Canada, Italy and others.
04. Hawaii – Pure (Andrez Remix) [Twisted Frequency Recordings | Promo]
Andrez was born in 1978 in Sofia, Bulgaria. He started playing the piano at the early age of 3, Later on, he studied at The State Academy of Music in Sofia and participated in different pop & rock bands until 2000. In the year of 1999 he emerged on the electronic music scene and has been djing ever since. In 2009 he became part of the most prominent DJ agency in Bulgaria - InSound Promotions. His resident nights at Chervilo Club in Sofia and Dance Club Mania in Sunny Beach are well known among the party people in Bulgaria.
His tracks and remixes are played by world-famous artists like Hernan Cattaneo, Martin Garcia, Jason Jollins, Federico Epis, Facundo Mohrr, Sergio Helou, Nicholas Van Orton, Hassan Rassmy, Darin Epsilon, Christian Cambas, Jacco@Work, dPen, Gerardo Boscarino, Alex Aguilar, Sasha Le Monnier to mention a few. His discography includes also remixes for Marcelo Vasami, Grunjah, Facundo Mohrr, Lesvicon Soul, Liliprod, Tomas Caturla, Cold Trap, Matteo Monero, Ariel Curtis, Lucas Teselhoff, Sotela and many more.
Andrez has releases on No Smoking recordings (Autumnal Equinox EP 2008), Balkan Connection South America (V-Town Stories EP 2009), KansaK Recordings (Room 204 EP 2010, Just A Simple Story, Not Quite Ordinary EP 2010)
05. Dominik Eulberg – Taeuschnungs-Blume (Ryan Davis "Narciss" Render) [Traum Schallplatten | TRAUM V144]
Diorama Remixes Part 1
Dominik Eulberg // Traum Schallplatten
Format // 12"
While Dominik Eulberg utilized the broader canvas of the album format to develop complex sophisticated compositions, rich of melodies and of intricate details, it was time to boil it down to a bit of a club formula.

Stephan Bodzin, a favourite producer of Eulberg, has chosen the clubbiest track of the album "Teddy Tausendtod" and transformed it into a after hour monster. Installing a feeling of electricity with sounds of the original that hover on a layer of huge bass and powerful arrhythmic kicks... it has resulted into a "hypnotic anthem".

Peter Dundov has chosen to remix "Der Tanz Der Gluehwuermchen" and created a piece of music based on "Chicago trax beats" fuelled with Detroit strings... creating a hedonistic symphony, a pleasure dome of fantasies. Dundov shows great skill in exploring textures, breaking down the beats and altogether sneaking in the original melody of "Der Tanz Der Gluehwuermchen".

Much more on the melodic side of things is Ryan Davis mix who has recorded two solo 12"s for Traum recently. Ryan has transformed the "Taeuschnungs-Blume" in to a soothing "rhodes powered", dead cool and lush track. With a complex composition he brings together blurred and transparent sounds, creating an highly organic piece of music and comes close to the world of Eulberg compositions.

Jesse Somfay, who has recently recorded for Traum's electronic sub label Zaubernuss under the name of "Flourish" here appears again on Traum after a break of nearly 6 years. Jesse likes to create music which lives through it's continuous mode, creating an altering, manipulating sound in the course of the development of the track, also his remix creates layers of sound and shifts of dynamic in the beat section in a magic way.

To round up the release Stefan Bodzin has done a 2nd remix of "Teddy Tausendtod" with a deeper touch to it, which we would like to include here as well.
Released // November 7, 2011
Format // 12"
Catalog Nr // TRAUM V144
EAN // 880319543418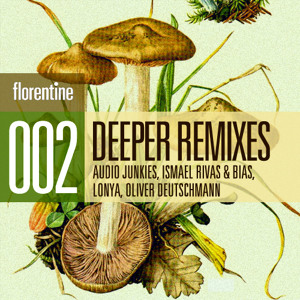 06. Audio Junkies – Deeper feat. Mei Finegold (Lonya Remix) [Florentine Records | FLR003]
We were so very fortunate and grateful to put together a Deeper remix pack with 4 truly amazing and unique interpretations to the original. The First coming straight out of Spain, by Factomania amigos and long time productions partners Ismael Rivas (aka Riva) & Bias. We at Florentine instantly fell in love with the powerful and sexy Madrid vs Valencian grooves, and hope you do too.
Our second remix by Berlin based, Panorama club resident Oliver Deutschmann(Falkplatz,Vidab), takes us on a deeper and darker journey. Swirling and intense melodies accompanied by Oliver's distinct techno-ish grooves create an harmonically immense contrast with the original vocals and melodies, a true after hours treat, Berlin style. 

Next in line is Lonya ( Sudbeat , Elevation , Asymmetric) , with a spiritual and uplifting cut . Carefully crafted a- la live bass-lines and shining harmonies create a wonderful poly-rhythmic musical collage that will get any dance-floor enthusiast moving. 

If you have read everything up until here, i solute you! really i do! well done

Last but not least, Audio Junkies have made especially for this pack an unreleased re-work of Deeper. it shares the same captivating melodies and vocals as the original, but has a new warm pulsating bass-line and techie rhythm section, creating a fresh and vibrant new twist.
Released by: Florentine Records
Release/catalogue number: FLR002
Release date: Dec 5, 2011
07. Fefo – Semillas [unsigned]
The range of Argentinian talent on Resident continues with Fefo, who already has a release on Sudbeat: Fefo & Arcas - Take Me Away (Original Extended Mix + Hernan Cattáneo & Soundexile Remix) [Sudbeat | SB010] was included on Renaissance The Masters Series Hernán Cattaneo Parallel CDF
Fefo has other releases on Acktivism Limited and Noizen, with the Fefo & Arcas track 'From Heaven To Earth' being remixed by Henry Saiz.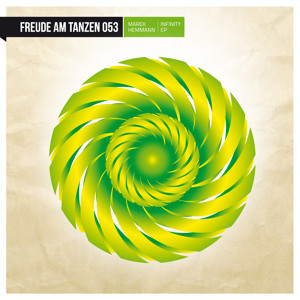 08. Marek Hemmann – Infinity [Freude am Tanzen | FAT 053]
Artist // Marek Hemmann
Title // Infinity EP
Format // 12"
After along with singer Fabian reichelt mimed the "erasure des clubwesens", again the Mr. Hemmann appears alone with a healthy amount of frolicking around his favourite place – the studio. For a long time he has belonged to those producers who tend to the opposite of the rather emotional-euphoria sound culture aflame in the clubs. The whispering under his breath "hey dancers, just wanted to say 'Trance' is back", alternates constantly with "That's what i'm telling you, the emotional quality must be placed in between the beats". also here there is the melodiousness and let-us-laugh-while-dancing inside as in so many complete club nights.
Marek understands the further development of his signature and thereby, between the poles happiness and dreaminess switching ever back and forth; this is taken to a new level. The sparrows are already warbling from the rooftops – a new album out the pipeline. only as a small teaser-in-anticipation, this FaT re- lease is not quite presented to the eyes. These three tracks massively blast the dance floors of the world. with the b2 piece "roundabout", Marek ventures into the breaks-dub-drum'n'bass-realm and injects it with a powerful dose of the Hemmann medicine.
Track information:
A1 - infinity
It's clear – it's a hit! and what a hit it is! with "infinity" Hemmann shoves the clouds to the side that this summer has so abundantly provided. rightly so, because the shorter days need more clear blue sky. above all our hearts need the sun. over the ear this functions wonderfully, especially with such songs.
B1 - You know
The laughter travels! a decently effective hopper for the club fiddlers sharing goodwill amongst each other is the program here. like with the best meals of the world, it's the perfect ingredients mixed perfectly together that pleases your pallet best.
B2 - Roundabout
The appetite on step together with rolling breaks and bass, has also infected Marek Hemmann. at first you might think 'what like experimental drum'n'bass?!' Then it morphs into an unbelievable shuffle-swing over the crackle of the beats and you find yourself overtaken, plunged into the heart of a techno set!
Released // November 7, 2011
Format // 12"
Catalog Nr // FREUDE AM TANZEN 53
EAN // 880319537110