Hernán Cattáneo : Resident (Delta FM 90.3) - Episode 008
Part 1:
01. The XX - Fantasy (Sound Process Unofficial Deep Remix) [Young Turks | unreleased]
02. Guy J - Sahara (1000 Words Sampler) [Bedrock Records | BEDGJ02LP]
03. Gregor Tresher - Leaving (Lights From The Inside LP) [Break New Soil Recordings | BNS022]
04. Jimmy Van M Feat. Steve T – We Are Children [Bedrock Records | Bedstructcd2Vin3]
Part 2:
01. Lonya and Aruba feat. Patrick Grob - Cannibals (Original Mix) [Elevation Recordings | ER057]
02. Moby - Be the one (Facundo Mohrr Remix) [Little Idiot | unreleased]
03. Kai Handberg - Hengemyr (Motorglow EP) [Kansak Recordings | KSK2011029]
04. Verche - Awakening [Soundcloud | unsigned]
Release Notes :
01. The XX - Fantasy (Sound Process Unofficial Deep Remix) [Young Turks | unreleased]
Sound Process the Argentinian born, Buenos Aires based dj & producer gained a lot of attention in 2010 with his track "Anatolian" for friskyRecords, a track that has been on many DJ's wish lists for many months.

In 2003, when he discovered that his passion for the music was stronger than the pleasure that listening to it gave him, he started exploring the world of production. He decided to study music production and started to develop knowledge about new softwares, hardwares, digital recording techniques and introducing himself into music theory. His first tracks were ambient, trip hop and Down tempo cuts which were his first step into finding his own and personal sound. 

His Influences came from artists like John Digweed, Sasha, Hernan Cattaneo and Danny Howells. Focused on deep and rough-edged underground house, his musical taste and style tend towards progressive house and melodic techno. 

Now fully stepping out into the club scene his thunderous, yet mellow soundscapes are played in clubs as far as from Brazil to Tokyo, from Russia to Mexico. 

His tracks are played and supported by various top djs and producers around the world such as Sasha, Hernan Cattaneo, Nick Warren, Dave Seaman, Henry Saiz, Eelke Kleijn, Pole Folder, Cid Inc (Mashtronic), Chloe Harris, Soundexile, Darin Epsilon, Martin Garcia, Deepmariano, Federico Epis, Dj Tarkan and Nick Varon, to name a few. 

Besides his work as a producer, he has also been gaining fame as a DJ. His unique blend of deep-tech, progressive house and melodic techno, has given him a very distinct sound. With a discography of over 50 signed tracks between originals and remixes up to date in great labels like Baroque Records (UK), Outside The Box Music (NED), Stripped Recordings (UK), Replug (FIN), Lowbit (UK), Composure Records (UK), friskyRecords (USA), Offside Recordings (ARG), between others. With even more releases and remixes for 2011, you can catch Sound Process on friskyRadio for one complete hour of mixed musical exquisiteness every first thrusday of the month on his show "Still Deeper".
02. Guy J - Sahara (1000 Words Sampler) [Bedrock Records | BEDGJ02LP]
Guy J is a young, much-in-demand, innovative producer, DJ and live act, whose infectious production talents, busy worldwide touring schedule, electric live shows and groundbreaking debut album on Bedrock (released in 2008) have all led to this point and the creation of his stunning new masterpiece: "1000 Words".
Along with a handful of his fellow countrymen, this young Israeli (now based in Antwerp, Belgium) is now at the forefront of a movement towards the melody-rich and emotionally charged roots of the house music spectrum. "1000 Words", spread over 3 CDs on John Digweed's forward thinking Bedrock label showcases the extraordinary talents of Guy J.
His productions have constantly earned praise and gained many fans for their tight, driving beats, shimmering, warm synths and blossoming, journey like arrangements. Across 3 CDs he is given the space to explore the exciting, timeless space between ambient, experimental electronica, house, techno and beyond. Throughout, he constantly maintains a melodic and highly emotive core, creating a body of work structured and presented in a highly creative way.
CD1 gives a nod to classical composition, taking the form of a series of movements, as Guy J mixes, segues and joins the dots between individual tracks to create an end result that is greater than the sum of all its parts. Opening with a swirl of muted bells and atmospheric pads, the lush opening 3-track sequence is concluded with the gorgeous, heavenly vocals of Miriam Vaga. Just when you think you know what's coming next, the soaring, melodic shower of "Fall Star", Guy J lets the spirit of the Mad Professor into the studio and spins into a fizzing dub experiment ("The Right Place"), before getting horizontal and beatless with the melancholy beauty of "My Organ Friend", to draw the second movement to a close.
"Spica" wouldn't be out of place on the Bladerunner movie soundtrack, as it cuts to the pulsating disco swing of "Electric Tale" with a nod to Giorgio Moroder and morphs and breaks down into the spiralling, ecstatic chords of "Lamur", before flowing into the distant storm of a perfect sunrise moment ("I Lost My Head"). The majestic beats reprise of "Stay Cow" and the stunning finale of "Fly" (once gain featuring Miriam Vaga), bring to a close what can only be described as a listening experience that has been heaven sent.
Imagine being able to create your perfect DJ set; having the skill as an artist to create all the music you want to play; all the subtle emotional nuances, mood swings and changes of direction at your fingertips. CD2 is packed with expansive dancefloor creations. In classic Guy J fashion this is a musically dense and diverse trip that is as dynamic as it is organic, gradually progressing, turning up the pressure, keeping you hanging on until the very last drop has poured out of the speakers!
From the deep, swinging, handclapping grooves of the opening sequence of "Doves", "Limbo" and "Easy Can Be", with their subtle, uplifting, intelligent beauty, this is a true journey by DJ, a master artist at work. As the mood moves towards the deep, throbbing intensity with lights down low ("My Thought Of You", "Sahara" and "Teva"), it's easy to become lost in the swirling electronic music as Guy J pushes emotion buttons, exploring the psyche of the dance, exploring possibilities, forging ahead into the future.
The full-length club mixes gathered on the unmixed CD3 rounds of this superb package in style, dedicated to bringing any self-respecting DJ's record collection up to speed with a selection of some of Guy J's finest moments from 1000 Words. From the majestic opening notes of "Doves", he first explores deep house vibes with an opening trio of low-slung grooves sprinkled with melodic flourishes, Detroit techno influences and dub drops. "My Thought Of You" turns up the energy levels and gets a little twisted, alongside "Teva" exhibiting no nonsense big room floor pressure. "Sahara" lightens the mood with ethereal beauty, while the stunning, gorgeous voice of Miriam Vaga will prove to be a highlight in any set anywhere. The heavenly atmospherics of Detroit techno bring CD3 to a close with the moody magnificence of "Azimuth", which is preceded by the pure melodic beauty of "I Lost My Head" and energetic techno styling of "Heliscope", showing that Guy J is one of the stand-out electronic artists in the world today.
03. Gregor Tresher - Leaving (Lights From The Inside LP) [Break New Soil Recordings | BNS022]
With his latest opus Lights from the Inside, German stalwart Gregor Tresher continues to define the sound for contemporary electronic music. With nearly two decades of service at the apex of the techno roster and a portfolio of releases on top labels such as Cocoon, Moon Harbour and Ovum, Tresher returns to the fold with his much-anticipated third studio album. Lights from the Inside encapsulates Tresher's flare for breaking the mould and crossing musical boundaries, infusing elements of techno, house, electro and IDM.
The entire LP exuberates elegance. A sleek style of stripped down techno that glides effortlessly between down-tempo dulcet tones and dance floor groove. 

Just when you think Tresher has taken you into the deepest darkest corner with the metallic clinks and industrial thuds of If Only, a break in the clouds begins to reveal a ray of delicate melodic resonance with the glistening chimes and oscillating synths of Through the Shadow Glass. Layers of slow building melodies are set onto a backdrop of throbbing bass lines that cascade between the crisp punch of Frontline and the distorted shimmer of Echelon.
Featuring the infectious pounding bass lines and mystic hooks of the up-tempo As Days Go By together with the warped-out harmonies of slower numbers such as title track, Lights from the Inside, each track shows a different side to Gregor's musical personality. Tresher places special emphasis on creating an album, not of disjointed peak timers, but instead a combination of many musical layers and segments bound together by a natural order and glossed off with man-made precision.
This long awaited artist album is an aural pleasure, and the long-time Frankfurt DJ continues to reign high and mighty among the upper echelons of techno's most creative. Set for release on Break New Soil on June 6th, Gregor's very own imprint, Lights from the Inside will ignite your senses and illuminate your soul.
Currently on his world tour, and having already smashed out sets from Berlin's Berghain to Miami's Ovum, Gregor Tresher will continue to leave his mark on some of the world's top clubs this year. Gracing Welcome to The Future festival in August as well as a handful of dates in the US over the summer and a tour of Australia in October, the next few months look to be prosperous ones both inside and out of the studio. With much to look forward to, and the promise of some LIVE performances, keep your ears to the ground because 2011 is going to be an exiting year for Frankfurt's finest.
04. Jimmy Van M Feat. Steve T – We Are Children [Bedrock Records | Bedstructcd2Vin3]
CD3 "Being head of A&R at Bedrock Records I'm privileged to get sent so much music on
a weekly basis. With this 3rd disc I wanted to showcase the sound of Bedrock in 2011 with these full-length, DJ-friendly, club versions in an unmixed format." – John Digweed

2011 is already proving to be a fantastic year for music and a great year for the ever-impressive Bedrock Records. For CD3 of Structures Two John Digweed has selected ten brand new, unreleased, exclusive tracks and remixes that showcase the diverse and ever-developing sound of Bedrock, presented in an unmixed DJ-friendly format.

Jimmy Van M (who is credited with having helped advance electronic dance music throughout North America since back in the day, opening avenues for John Digweed, amongst others, along the way) is also now involved with Oliver Lieb in a co-production capacity. Now based in Madrid, Jimmy Van M shows he is a force to be reckoned with in 2011 as he lets the ethereal, uplifting vibes of We Are Children, featuring the distinctive haunting vocals of New York artist Steve T, flow.

"I hope you enjoy this album as much as I did compiling and mixing it." – John Digweed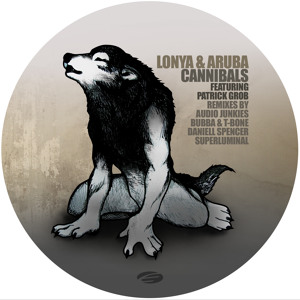 05. Lonya and Aruba feat. Patrick Grob - Cannibals (Original Mix) [Elevation Recordings | ER057]
Lonya & Aruba 'Cannibals' Feat. Patrick Grob
Remixes by Audio Junkies, Bubba & T-Bone, Daniell Spencer & Superluminal
Out June 27, 2011
Finally there's a positive spin on Israel/Ireland relations that doesn't involve forged passports, assassins or flotillas. Asymmetric Recordings' label boss Lonya (Tel Aviv) teams up with Elevation's label boss Aruba (aka Darran Nugent) for a feeding frenzy of the classic deep house variety with Patrick Grob (Haiti) adding the cannibalistic vocal flourishes throughout. Time to party and unleash the beast within.
Audio Junkies take a short break from producing their upcoming Wally Lopez collaboration EP on Wally's Factomania imprint to deliver a seriously infectious remix for the Elevation camp. And we love it. We hope you do too.
Belfast's Bubba & T-Bone deliver the goods yet again after their recent re-edit of Jamie Principle's 'Baby Wants to Ride' on TRAX. Take a ride on this bassline!
Daniell Spencer (Chicago) is a veteran of the Chicago House scene with releases over the years on labels like Nepenta, Chez, Aquarius, Afterhours and Brique Rouge as well as being a longtime friend and collaborator with Aruba. Here he drops two ultra groovy versions for your hips and bits.
Last but definitely not least Superluminal (Poland/Nightbird) take a very chic turn on their remix. This one is a slick hybrid of classical and Detroit influences wrapped in a futuristic house shell. Watch for these guys on Sebastian Davidson's Nightbird label soon as well as the upcoming Elevation EP 'Venus Soul'.
Released by: Elevation Recordings
Release/catalogue number: ER057
Release date: Jun 27, 2011
06. Moby - Be the one (Facundo Mohrr Remix) [Little Idiot | unreleased]
Facundo Mohrr [Sudbeat] is a dj and producer from Argentina. His tracks have characteristic soft pads, lush melodies, his style is progressive house, lately with a bit of tech influence.
25 year old Buenos Aires resident, Facundo Mohrr has been steadily building a reputation thanks to a stream of releases and remixes. Under his own name, his brand of progressive house has already gathered many a big name supporter and seen him travel the globe to DJ. With the likes of Sasha, Nick Warren, Anderson Noise and Christian Smith all lending their support, it has encouraged Facundo to broaden his musical horizons and produce material with a tougher, techier edge. To be released under the pseudonym, Mohrr.
07. Kai Handberg - Hengemyr (Motorglow EP) [Kansak | KSK20110
29]
Release Date: June 29, 2011 
Kai Handberg - Motorglow EP
1.- Motorglow (Original)
2.- Hengemyr (Original)
Kai Handberg is a new talent from Norway, 2 original deep progressive tracks. Early support by hernan Cattaneo...
From Kai Handberg's Soundcloud :
There is little you need to know about me. I make music on a computer. I live in Norway - I am NOT a viking; and I have a limited appreciation for black metal. 
My ego has considerable room for growth, so if you find it in your heart to comment - know that I live for those.
A brief attempt at techno featuring many sounds from my newly purchased Zoom H4n - had lots of fun recording and editing these together. Death, in a watery grave - set to a relentless beat hurrrrrrrr
Forthcoming on Kansak Recordings, Morelos, Mexico.
08. Verche - Awakening [Soundcloud | unsigned]
Verche is rising talent Marin Roncevic from Zadar (Croatia)
http://soundcloud.com/verche
Labels: Mistique Music | System Recordings | Bonzai Music | Aenaria Recordings | Zero Digital | Incense Records | Fierce Animals
Music supported by: Laurnet Garnier, Sven Vath, Sasha, Chloe Harris, Derek Howell, Markus Schulz, Steve Lawler, Dimitri Nakov, and many more.