Hernán Cattáneo : Resident (Delta FM 90.3) - Episode 049
Part 1:
01. Luis luchetti - Between The Blues [Unknown | Promo]
02. Mic Newman - Knickerbocker [Tsuba Records | TSUBA58]
03. Luke Hunter, SpinnZinn, SanedracHunter - Just A Groove (Live-Groove-Die EP) [Club66 Records | CLUB081B]
04. Tilt ft. Maria Nayler - My Release (Ben Shaw Remix) [Unknown | Promo]
Part 2:
01. Derek Howell & Joshua Michael - J [Unknown | Promo]
02. Kassey Voorn - Siege [Unknown | Promo]
03. Daniele Papini & Riccardo Ferri - Los Draio (Kay Instrumental Interpretation) [Alchemy | ALCDG025]
04. Lank - Daily Surprise (Dark Soul Project & Santiago Garcia Remix) [AlterImage Recordings | Promo]
Release Notes :
01. Luis luchetti - Between The Blues [unsigned]
Born in Córdoba, Argentina, Luis Luchetti has been performed in many shows, parties and clubs next to Djs and music producers from Argentina and also from the International scene, as for example Simon Baker, Appleblim and with several artist of the argentinian agency Surface like Deep Mariano and Facu Carri.
In his sets he plays mostly melodic music with a wide spectrum of styles.
He was a producer, DJ resident and manager of one historic after hours club ("Bon Voyage" from 2005 to 08/2009) from Argentina.
During this period of management and position he arrange performances inviting local Djs, inviting national Djs such as Franco Cinelli (Courtesy of Simbad Segui) and Staff of Sol Solar agency (among others); and inviting international Djs like Wighnomy Brothers (Courtesy of Cristobal Paz) and Simon Baker (Courtesy of Infierno Club from Cordoba, Argentina).
Luis Luchetti has been related to the creative management of various events brands, such as De-Aca! -brand dedicated to the art in general- and Bullybass -this brand is dedicated to parties in night clubs, involving alternative beats in electronic music like Dubstep, Drum&Bass, electronica, and so on."
He had his own radio show (2006-2010) making programming Luis Luchetti Presenta en Radio Pascal. In addition, he promoted several Djs and producers from the scene. The show has featured important international artists such as Cassino & Laben duo (Courtesy of Nicholas Van Orton and Nico Fantin), Zuckermann (Courtesy of deptorec from Cordoba, Argentina) and Mad Professor@Live Casa Babylon (Courtesy of Casa Babylon from Cordoba, Argentina).
02. Mic Newman - Knickerbocker [Tsuba Records | TSUBA58]
The supremely-talented Australian producer Mic Newman delivers a stunning four track EP for the next instalment of the esteemed Tsuba Colours series.
Mic Newman has rapidly risen through the ranks of the house music elite with his remarkable productions, and his latest offering on Tsuba reaffirms why he is one of the most in-demand producers around. The 'Knickerbocker EP' is constructed with the type of warm sounds that Mic's productions have become synonymous with, and all three tracks are bursting with emotion, energy and beautifully constructed melodies.
 On the opening track 'Knickerbocker', warm pads, floating synths and an expertly executed uplifting vocal combine with devastating effect, resulting in one of the finest and most memorable deep house tracks this year.
On remix duty is the distinguished producer Mark E who released on the likes of Spectral Sound, Merc, Dogmatik and Running Back in 2011. Admirers will instantly recognise Mark's slow and seductive style, and while the vocal remains, he drops the tempo and takes the listener on a much deeper journey resulting in a woozy and classy remix.
Both the remaining originals on the package again draw from Mic's rich palette of sounds. 'Forever In My Chart' sees dulcet synths and melodies and a lush short vocal skilfully layered throughout the track. 'It's Time' is a similarly dazzling track, packed full of rich textures and a succession of striking vocals, however this time the track is characterised by the powerful bass which complements the tracks crisp drums and raw groove.
Available as shrinkwrapped lime vinyl with matching labels & sleeves.
DJ Support From Jimpster, Maceo Plex, Pepe Bradock, Sebo K, Midland, Ralph Lawson, Spencer Parker, Catz N Dogz, Tini, MANIK, Tornado Wallace, Jef K, Gerd, DOP, Gavin Herlihy, Willie Graff, Huxley, Jordan Peak, Deep Space Orchestra, James What
Released by: Tsuba Records
Release/catalogue number: TSUBA58
Release date: Feb 19, 2012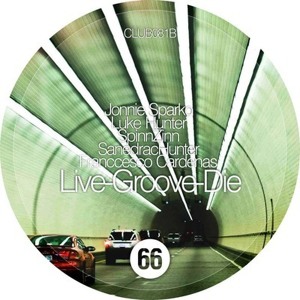 03. Luke Hunter, SpinnZinn, SanedracHunter - Just A Groove (Live-Groove-Die EP) [Club66 Records | CLUB081B]
Groove and never die. Regenerate your existence while lost in motion. But is it Just a Groove? Not when you feel it in a existence beyond the dance floor. It's an energy that transcends the lurking doom of death during this time on Earth. In this plane, all we have to do is live, groove, die.
Released by: Club 66 
Release/catalogue number: CLUB081B 
Release date: Mar 1, 2012
04. Tilt ft. Maria Nayler - My Release (Ben Shaw Remix) [Unknown | Promo]Tilt Biography
Mick Park needs no introduction as he has been one of the UK's most influential DJ/producers achieving massive success as one half of DJ duo Parks and Wilson and production outfits TILT, Killahurtz, Odessi and Terracotta Army.
After meeting in Coventry (England) in the early nineties, Mick Park and Mick Wilson got their first DJ residency at the legendary Eclipse club and soon became known as the UK's best DJ duo, they went on to DJ and perform in all of the Worlds top clubs and venues, from Ibiza to South America, North America to Australia. Mick played on some huge tours supporting Paul Oakenfold, Simply Red and MTV in super clubs such as Twilo (NYC), Pacha (Ibiza/South America), Space (Ibiza), Amnesia (Ibiza), Womb (Japan), Crobar (Miami), Vinyl (Danny Tenaglia, NYC), Ministry of Sound World tours, Smirnoff Vodka World tours and all the major Festivals such as Creamfields, Homelands and Global Gathering along the way. Parks and Wilson also produced two widely successful Essential Mixes for the Pete Tong show on Radio One (one of which was voted second best of all time behind Sasha).
Mick and Mick's talents also saw them move into production and in the early days they had success with progressive house projects such as Ritmo Rivals, Ritmo De Vida and Blood Brothers, however it was after getting together with fellow Coventrian John Graham and engineer/co producer Nic Britton and forming TILT in 1993 that things really began to push the boys worldwide.
TILT were signed by Paul Oakenfold, for his Perfecto label, and in 1996 they had their first UK top 40 hit with 'I Dream', more big tracks followed including 'My Spirit' and 'Places'. In 1998 they moved record label to Red Jerry's brilliant Hooj Choons and more hit singles followed. 'Invisible' (featuring the vocal talents of Dom Atkins AKA Grace) was a top twenty hit, and 'Rendezvous' and 'The Seduction Of Orpheus' (a favorite of Danny Tenaglia) were massively influential tracks which moved the progressive/trance-dominated house scene into previously uncharted, darker territory. TILT had become a major force in the international dance music revolution – with their tribal drums, booming bass-lines and unforgettable melodies, they blurred the boundaries between house and trance and supplied millions of dance music lovers worldwide with the soundtrack to their weekend.
TILT then embarked on live tours around the World and reached out to most of Clubland by the late 90's. To date Mick Park has had seven UK hit singles, and are now registered to the official Chart Encyclopedia in the UK.
The boys also found that their infectious form of progressive/trance music was not only popular in clubland, but was popular on radio and TV too, featuring on a whole range of television programs- from soap operas to Champions League and international football matches as well as hit TV dramas such as Queer As Folk, Six Feet Under and EastEnders. Another huge step into the production of film score saw Mick write the pivotal kidnap scene music in the Hollywood blockbuster Nobel Son which starred Alan Rickman, Danny De Vito and Ted Danson.
As well as original productions Mick's remix portfolio is second to non, He has remixed U2, Dido, Arctic Monkeys, Boy George, Sinead O'Connor, Paul Oakenfold, Jeff Waynes "War of the Worlds", Mel C to name a few. He has also collaborated with the late great Malcolm McClaren on a project very close to the heart of the ex Pistol's legend.
After John Graham left TILT to concentrate on his Quivver project in 2003, it seemed to many that TILT's days as a creative force were over, but the duo came back with the critically acclaimed 'Left Of Centre EP', which was released on Trust The DJ Records later that year. The two Micks then recruited respected producer, Andy Moor, and the new TILT threesome went from strength to strength. 'The World Doesn't Know' single released in 2004 was Paul Oakenfold's number one track on his world Creamfields tour. TILT's highly anticipated first album 'Explorer' was released in January 2005 on the Lost Language label, along with a new single, entitled 'Twelve'.
Mick Park and Andy Moor also started Odessi alongside Leama and with the vocal talents of Maria Nayler. Odessi had a new single entitled 'Beyond The Sound' released on Universal in 2005. Mick then hooked up with old friend Kenny shifter to create Rekelectrik which was signed to Toolroom records and they released the Inner City cover "Till we meet again" which was caned by Pete Tong, Sarah Cox and the Radio 1 crew all over Ibiza in 2007.
Throughout his time with Tilt Mick worked alongside mythical engineer Nic Britton. Nic was one of the most prolific sound engineers for Progressive House and Trance in the 1990's and was the fourth member of Tilt throughout the nineties. In the early 90's he worked at Bassroom Studios engineering for the likes of Laurent Garnier, 'Mad' Mike Banks & DJ Pierre. On setting up his own studio 'Midiroom' with his recording partner Lee Fredericks, Nic went on to be the in house engineer - co producing and engineering tracks for the likes of Tilt, Quivver, Parks & Wilson, Breeder, Tarrentella, Redanka, Paul Van Dyk, Perfecto Records, Whoop Records, Hooj Choons and many more, establishing himself as one of the worlds most popular engineers for that particular niche sound made popular by Oakenfold, Sasha & Digweed that exploded in the mid 90's and showcased on tracks such as Not Over Yet, Invisible, Rendezvous, Twilo Thunder, The Chain, What's This?, I Dream and The Seduction of Orpheus to name but a few.
Nic and Mick then went onto form their Killahurtz project alongside Lee Fredericks producing and engineering massive club tracks such as West On 27th and remixing the Arctic Monkey's "Fake Tales of San Francisco."
In 2006 Mick, Nic and Alex joined forces to form "Terracotta Army"- the band released the indie/ dance fusion "Stealing Souls" in 2009 on Andy Moor's AVA records and also remixed the like's of Way Out West (with Shifter & Carvell), Quivver, U2 and Kasabian. Throughout this time their "Terracotta Army" DJ mixes were a regular feature on Mainframe radio and Mick and Alex have also had DJ mixes feature on Move radio, Paul Oakenfold's "Perfecto" Radio show and Barry Jamieson's Circular sound show as well in 2011.
In 2011 they returned to their first love which is dance music and have produced "No Other Day" featuring Maria Nayler, re-released the TILT classic "The World Doesn't Know" for Lost Language's 100th release, and reworked Apollo 440's classic "Liquid Cool". The band are currently hard at work in the studio, writing and collaborating with various guest artists and finishing off their next album project, with support from Armin Van Buuren, Paul Oakenfold and many of the Worlds top DJ's on their new material, as well as a rocking Live show at The Cream Reunion in November 2011. Often called Legendary or Mighty, TILT are ready to once again ascend into the Stratosphere!
Ben Shaw
Ben Shaw has been producing and remixing for more than 13 years, starting off under the Sunscape alias on Barrie Jamieson's label Fluid Recordings, before releasing under his own name with his biggest track "So Strong" feat. Adele Holness on Cass, Slide and Lee Burridge's Fire label back in 2001.
Following this he ran his own label Kubist Recordings in 2003, seeing several vinyl releases. Ben has since been releasing music on various digital labels including Omnis, Qaitek, Per-Vurt and Last Night On Earth.
Most recently Ben has teamed up with studio partner Ben Summers to form NameSpace, who have found their home on Norman Hines' acclaimed Stripped Recordings label. NameSpace have also had releases on Endemic Digital, Unrivalled Music, Soulfire Downloads and Crossworld. 

NameSpace's recent "Not Found" EP was released in January 2012 on Stripped, and has enjoyed support from many top DJs including Hernan Cattaneo who played it two weeks consecutively on his radio show.
05. Derek Howell & Joshua Michael - J [Unknown | Promo]
Houston based Derek Howell (above) grew up surrounded by music. His first encounters with music at close range were personified by the purchase of his first record player before the guitar consumed Derek's life for the better part of four years as he spent countless hours, day after day, picking away and experimenting with chaining every distortion and effect pedal he had on hand.
When the underground dance bug hit southwestern America Derek quickly dropped his guitar and picked up turntables. After listening, fervently, to the sounds of the time in dance music ( Sasha, John Digweed, Dave Seaman), Derek decided that he wanted to spread the good news. He strove to create something fuelled by his musical roots, but driven by the future. To this day he has sought to invent a place where the products of others? musical heydays and his visions of the future of music can come together and groove.
At the start of his career he released records on such labels as Fade Records, Bedrock Records and 3 Beat Breaks. He has since had releases on Matthew Dekay?s DK Records, Randall Jones's Mynt Music imprint, Proton Music and the ever present Global Underground. In addition, he has been featured on quite a few well known compilations including the infamous Nick Warren's GU 028: Shanghai, Desyn Masiello's Balance 08, GU?s Electric Calm v2 downtempo compilation as well as their Digitized 2 compilation and two of Hernan Cattaneo's Renaissance compilations.
Derek's collaboration work with fellow producers Peter Martin and Joshua Michael has birthed the Pinkbox Special/Alley Qats and Lonestar projects respectively, under which releases on Armada Music, Maris Music, Proton Music and Fade Records have ensued. These things being all in the past but certainly never forgotten, Derek's goal for tomorrow and the years to come is to create dance and electronic music, not simply dance tracks. He strives to push himself in different directions and to never be content with settling on any one style, genre or sub-genre of the music he chooses to create. Music has always remained a very important part of his life, and that trend shall continue. Hopefully, with a lot of hard work, and a boat load of faith, his music will become an important part of so many others' lives as well.
06. Kassey Voorn - Siege [Unknown | Promo]
Progressive-House DJ & producer Konstantinos Chronopoulos, better known as Kassey Voorn, was born in the city of Athens, and music has been a part of his life since childhood. After attending some of the best DJs' gigs and listening to couple of records, he was really attracted by electronic music, and decided to take things to the next level by attempting to make his own productions in 2006.
His musical career began in 2008 and in a short ammount of time, he managed to get into some respected labels, and his productions have been supported by major Djs of the scene, such as Hernan Cattaneo, John Digweed, Armin Van Buuren, Laurent Garnier, Dubfire, Nick Warren, Markus Schulz, and Kenneth Thomas amongst others.
As time goes by, and music evolves, Kassey will continue experimenting and evolving a unique sound, on his productions and his live performances, so keep an eye on this one, i'm sure there is a lot more to see from him.
His career has accelerated of late, after winning Bedrock's Guy J remix competition, with Azimuth (Kassey Voorn Remix) [BEDGJDIGI01] released in early 2012. His other remixes have appeared on Vapour, Cocoon, Lowbit, Proton, Balkan Connection.
Kassey's maiden Afterglow Deep release is now followed up by his Viola EP [AGRDEEP031] is our April 16th, featuring the Dosem remix Hernán played on Resident 047.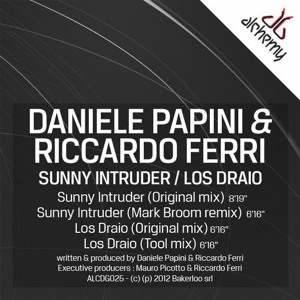 07. Daniele Papini & Riccardo Ferri - Los Draio (Kay Instrumental Interpretation) [Alchemy | ALCDG025]
Alchemy are very happy to welcome our great friend Daniele Papini back to the fold. Returning to the label for the first time since 2009's "Elements" series, the Berlin based Italian teams up with his follow countryman and Alchemy main man, Riccardo Ferri, to deliver two brand new productions. Alchemy to the core, the two producers have both been integral in the success of the label and not only as an artist. Behind the scenes Riccardo takes charge and together label boss Mauro Picotto, oversees as label issues as well as lending his studio expertise. His "Supernova" ep is a label highlight and he is currently enjoying the acclaim for his remixes for Drumcode and Material. Daniele has had no fewer than eight releases on the label and his incredible 2008 release "Church Of Nonsense" is still, to this day, one of the labels biggest and most successful hit records. So the founding members of the Alchemy family join forces once again on the no-nonsense heads-down romp that is "Sunny Intruder" and the devilishly deep "Los Draio." Whilst the boys also present their 'Tool' mix of "Los Draio", the task of reworking the lead cut falls to the UK's finest, Mr Mark Broom. The Beard Man himself tempts us with a host of stabbing synths, driven throughout by the most skull-crunching of kick-drums.
Feedbacks:
Hernan Cattaneo [Sudbeat] :"Very Good!" 
Carlos Pashe [Minus] :"amazing remix, i will chart and use in my next guest mix radio show, many thanks" 
Richi G [Bedrock] :"cool buddy good stuff" 
Rich Curtis [Replug]: "Nice! Yes it's a pretty cool track
" 
Summer Brendon Collins [Tulipa] :"Nice one, thanks man!" 
Luis Bondio [Lowbit] :"nice perc! I like it! thanks" 
Mike Griego [Hope] :"very NICE! more kind of the music I like to play. It has that techno vibe which I really love. Congrats!" 
Darin Epsilon [Perspectives] :"Thank you, Kay, it's a quality remix for sure. Especially towards the middle, I like that part the most." 
Gianni [Moseeka] :"thanks for the remix you sent me !i played a couple of times live and the reactions were very good!keep up the good work"
08. Lank - Daily Surprise (Dark Soul Project & Santiago Garcia Remix) [AlterImage Recordings | Promo]
Notes from the original 2010 release :
AlterImage Recordings is excited to announce our next release from resident artist Lank (HU).
"Daily Surprise". It's a hard-hitting, FX whirling, dancefloor ready tune. Filled with beautiful pads and thick grooves, Lank turns up the heat showcasing his talents with his second release on the label.

Logizitk Sounds & Luxor Traum (UR) turns in a blazing remix that take the original to another level with a driving bassline and glitichy loops that build just right and will be rocking dancefloors around the globe. With releases on Emfire, Global Underground and other world-class labels we are pleased to have Nico and Luxor as part of the AIR talent pool.

Peter Martin is another regular to AIR and his remix does not disappoint. A wizard of sound, Peter's remix morphs, builds and evolves as he demonstrates an uncanny ability to control sound and know what makes crowds go crazy.

Shane Howard takes a different approach to his remix and turns in a break beat cut that perfectly rounds off this amazing package. Stuttering pads, hard hitting beats and unique use of the original's parts Shane shows he is a world-class talent not to be reckoned with.